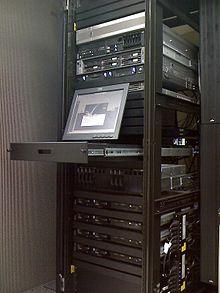 Cloud computing essentially leverages off-site servers and IT resources allowing a business or end-user to both store and access data and programs on highly available, Tier-4 or better data-center based computer systems.  The Terminal Server is the grandfather of cloud computing.  Auto parts warehouses used private cloud systems that were UNIX-based long before today's graphic user interfaces made cloud computing viable for any small to medium-sized business.
The main benefits of both private and hosted cloud computing are listed below.
High availability of servers and access
Low total cost of ownership for Tier-4,3 and 2 Infrastructure
Scalability and accommodation of growth
Physical data security, ie.. Limited access, Generators and Climate Controls
Automation, Colocation, Backup and Replication for Pennies on the dollar
Is it possible to have my own cloud computing system?
Yes, you can build and operate your own highly available, redundant private cloud computing environment for less than you think.  This type of network infrastructure has been around for decades only now has this technology become mainstream and less-science fiction.  For more information about highly available cloud computing San Antonio can can count on Call (210-497-1424), contact or email us today.
Cloud computing solutions can be built and deployed under your own private ownership and control and managed by ASAP Computer services. Or you can outsource the whole cornucopia of responsibilities of operating a solid cloud environment to ASAP Computer Services.  A small to medium sized business can leverage the total outsourcing of cloud computing to their advantage with an attractive and rapid ROI.
Windows Server 2000, 2003, 2008 and 2012 all provide both cloud computing and terminal server environments, remote desktop environments and remote application publishing.  Citrix and Linux also provides remote desktop, remote application and terminal based systems.  Both the regular computer workstation on your desk now and thin clients the size of a VCR tape can leverage the terminal servers and cloud computing.
Using cloud computing can allow your organization to outsource more than just infrastructure, a server or servers.  Applications can actually be executed from desktop shortcuts and open windows for applications just the same as if it were locally installed.  Although it is operating on a cloud based APPLICATION system .
Contact Us If you are ready to chat about cloud computing and and are interested in using cloud computing as a strategic resource for your business. Or call us at 210-497-1424.  ASAP Computer Services has a decade of experience in building private cloud servers and migrating organizations to cloud-based application environments.  As well as the know how of where your organization will benefit the most, from the myriad of options in the cloud computing matrix .