Does your medical  practice need HIPAA Compliance San Antonio medical practices can count on?  Please contact ASAP Computer Services for a free consultation for the following.  210-497-1424
Encryption.
Network Security.
Network Security Monitoring.
HIPPA Compliance Audits.
HIPAA compliance in San Antonio
We also handle PCI compliance audits and make sure your healthcare organization's network is HIPAA compliant.  Does your organization need the best IT security San Antonio has available?    More than likely, there are a few flaws within your computer network and network infrastructure.  3DES and SHA encrypted VPNs are a keystone of ASAP computer services information security offerings. Call 210-497-1424 to speak with someone at Asap Computer Services now.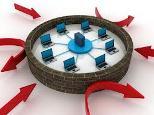 Using VPNs to interconnect your offices or your satellite operations to your corporate office is a practical idea.  Encryption brings your organization to a level of security that is required for HIPAA or PCI compliance.  PCI compliance laws have recently become a headache for any small business processing credit card payments.
Storing customer information, particularly medical or credit card information is a liability.  Most PCI compliance audits are @ 100 pages.  And will ask practice administrators questions they don't have answers to.  Let ASAP computer services help you by providing the kind of IT security San Antonio practices depend on.
Using Cisco VPN equipment or in some cases SBE level VPN equipment allows an organization of any size and affordable path to encrypted networking.  Basic security audits can also help you prevent data loss and employee data theft.  This year alone over 40% of internal data theft was categorized as unreported.
That means employees stealing information.  Without the correct security access levels.  You may be giving access to confidential information on your network to employees that do not need it, and should not have access to the secure information.
If you'd like to discuss your IT security situation, HIPAA concerns, a PCI Dss Compliance issue or Network Security contact us by clicking here or by calling 210-497-1424.