Do you need to implement small or mid-sized business IT solutions?  ASAP Computer Services can help integrate the IT solutions your company needs.  Asap will consult with you to design, plan, deploy, optimize, manage and maintain your network infrastructure and IT assets.  ASAP Computer Services has the Field-Tested experience and tools to plan and execute your IT Solution.
Call 210-497-1424 to speak with someone at Asap Computer Services now. Or click here to contact us.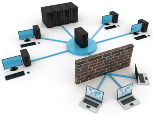 Providing San Antonio IT Solutions Since 1999. Asap Computer Services holds the following certifications: Network +, Cisco CCNA, Fiber Optic Association, Comptia A+ and MCSE, MCP, Dell and MCDB Microsoft Certifications.
As businesses continue to expand and increasingly rely on Internet technology both wired and wireless, the network infrastructure, servers and applications we use have become a mission-critical component of a being a competitive business. Today's business and technological advances require a high-performace network infrastructure that is designed to control your costs and reduce risks to your business.  This confidence in your infrastructure will entitle you to seize new business opportunities. We can help you plan, deploy, optimize, manage and run your network infrastructure – virtually regardless of its complexity and of your organization's size.
We can assist in your efforts toward:
• Outsourcing IT services and positions.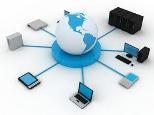 • Achieving business viability.
• Managing business IT support needs.
• Managing complex projects.
• Maintaining a competitive edge.
• Implementing Microsoft or Linux Servers .
Here are some examples of IT solutions we provide
• Server installation or virtualization and network design, installation and maintenance.
• Planning, maintenance and management of your multi vendor IT infrastructures.
• Automated backups of your mission critical data, automatically.
• Collaborative relationships with your non-ASAP software and hardware vendors.
• Solutions addressing business transformation, cost efficiency and backup concerns.
• Flexible terms and conditions, ranging from project engagements, support, ongoing managed services agreements, and outsourcing.
• Experience, proven methodologies and tools. And did we mention Experience?
• Single point of escalation and accountability coupled with field-tested experience.
Your IT Solutions Company in San Antonio.
ASAP has a broad scope of resources dedicated to integrated technology and on demand infrastructure services, but that doesn't mean we work alone. In fact, ASAP works alongside some of the best companies in the business – such as AT&T, Avaya, Dell, HP, Sonicwall, Forinet, ESET, Time Warner, Cisco and Microsoft whom all bring something unique to the table including:
ASAP Computer Services computer support can provide you with the most comprehensive solution possible. Wherever you are, a network specialist is ready to work with you.  210-497-1424