During a routine VoIP phone installation my clients entire network crashed. A frantic cell phone call was received and I was to provide an network solution.  If you need help with your VOIP phone system in San Antonio give us a call at 210-497-1424.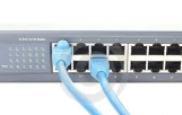 Once I arrived I was shown to the location where the new phone had been installed.  the network jack the VOIP phone was plugged into was quite odd.  Their business phone system runs on the same segment as their data.  And what I saw was the line behind the Jack ran into another room into a switch that somehow then ran back into itself, instead of up the wall.
Long story short the patch cable for the phone ran through the wall into a switch that was then connected to the network but unfortunately the switch also had a cable that was looping back to itself.  (from int1 to int2 on the switch) Thus this client's network crashed.