Typically our clients that call about how to remove the FBI virus have actually called the FBI because the scam is so convincing.  The new variant that this how-to guide covers has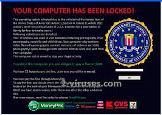 been field tested in removing the FBI virus in which a Webcam on the computer displays a photograph of the "user" who is the victim of this scam picture is displayed.  we have been calling it the Candid Camera FBI Money Pack Virus.
Feel free to contact us or give us a call if you need assistance with virus removal in San Antonio.  We can be reached at 210-497-1424.
Here is the step-by-step guide on how to remove the FBI virus, candid camera variant.
Turn off your computer
Turn your computer back on
As your computer is booting up hit the F8 key continuously (every 3 seconds)
A menu of options will appear
Choose safe mode with command prompt
When the command prompt appears type in the following command….  cd C:\Windows\system 32\restore then hit enter on this line
 Type in the command rstrui.exe then hit enter this will bring up the system restore dialog box there will be two radio buttons one will say restore my computer to an earlier time, the other will say create a restore point
Choose the radio button that says restore my computer to an earlier time
Than click next, you'll see a calendar with dates choose a date on the calendar at least one week prior to the date in which your computer was infected with the FBI virus a.k.a. the FBI Money pack virus
Click next wait for the restore to finish, then reboot the computer
Once the computer is rebooted, Google then download and install Malware bytes (the free edition is fine) and do the same for Avast antivirus free edition.
Run both of these in safe mode, with full scans.
That should remove the FBI virus.  Be sure to follow every step in this how-to guide and you are insured success in removing the FBI virus.