Why choose ASAP?  In a nutshell.  Experience, Experience and Experience!  ASAP's low voltage structured cabling and fiber optic installation services are backed by experience and BICSI. In the realm of FTTH, Server Rooms, Network Cabling, Tier 1 Datacenter Construction or Structured Cabling.  Our Central Texas &  San Antonio structured cabling clients can place their trust in the experienced professionals at ASAP, who excel in both fiber and copper networks.  Because expertise truly matters.
Asap has years of experience installing Fiber Optics, Cat6, Wireless Systems, Active Equipment, Servers and more.
Click here to contact us or call 210-497-1424 to speak with someone at Asap Computer Services.
Visit our network installation page and learn more about our network construction capabilities.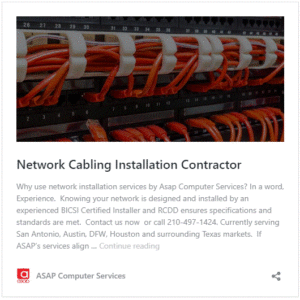 ASAP Computer Services will assist you with Network Design, Installation, IT Support, Hardware Upgrades, Moves adds Changes and more.  Our certifications include BICSI, Cisco, Dell, Microsoft, Comptia A+ and Network +.  We have an incredibly large knowledge base of working experience with several service provider buildouts. So this makes ASAP wholly capable of providing you or your organization ANY Network Installation help it may need.
ASAP Computer Services provides the following services.
Fiber Optic Installation & Fiber Optic Splicing.
Private Property Cabinet Placement.
MXU Brownfield and Commercial Greenfields.
Tier 1 | Tier 2 | On Premises Datacenters.
Pathways: EMT, HDPE Sch 40 and Proprietary.
Structured Cat6 / Coax Installation.
Network Design & Construction.
10/2, 18/3 and 24/2 RS-485 installation.
Network Device Installation.
Onsite Service.
Hardware Repairs.
Software Troubleshooting.
Network Troubleshooting.
Cloud Computing.
System Integrations.
Laptop Repair.
Server Repair.
Service Contracts.
IT Support.
Business Technology Consulting.
Managed IT Services San Antonio can depend on. 
ASAP delivers results for server room & network construction.
Asap Computer Services techs have 40 Years of collective hands-on, in the field, IT Service and computer problem solving experience. Installing and supporting Adtran, Brocade, APC, HP, Cisco, DELL, Fortinet, VM Ware, IIS, SQL, Exchange, Active Directory and Office 365.
Ask us about remote monitoring and proactive maintenance.   Active Equipment, Virtual Machines, Windows and more we can manage and support them all.
So we also provide network support and maintenance contracts, so service after the sale is part of our process.  Our Manged IT Services San Antonio staff can support your installations of:
Windows desktop operating systems.  Windows Server 2003, 2008, 2012, 2016 and 2019. Hyper-V and VMWare Virtual server computing Environments.  Thin Clients and Terminal Servers, NAS and SAN storage.  Azure and Office 365.
Asap Computer Services also provides design services by a local, hands on BICSI certified RCDD.
Our services will be performed to a high standard.  Yours.  And by one of ASAP's experienced, friendly and certified techs.
Contact the experienced professionals at ASAP Computer Services today.