Why use San Antonio network cabling and infrastructure installation services by Asap Computer Services? In a word, Experience. Call Asap Computer Services at 210-415-2753 or email us to discuss your premise wiring, wireless networking, network cabling, a/v or infrastructure project.
Network cabling is the core of every data, voice and multimedia network.  If you are moving into a new office and need wiring for your network infrastructure, we are capable of designing a cable plant that is scalable, affordable and fast.
The right foundation of network cabling is important to prevent bottlenecks, because of growing voice and data IT infrastructure traffic.  Whether it is LAN, WAN or VPN experience counts when you are designing a network.
By analyzing your IT assets such as computers, laptops, wireless, voice, video, servers and data processing equipment ASAP can guarantee your network cabling is an enterprise class backbone for communication and growth.
We apply TIA/568 standards to all our network cable installations.
San Antonio Data Cabling Services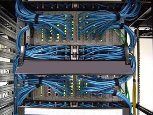 Integrating multi vendor equipment has become challenging, time-consuming and increasingly dependent on how IT systems are physically connected. Proper planning, configuration and installation for connectivity is critical.
Our professionals can analyze your existing network, protocols, wiring configurations and cabling infrastructure, identify requirements, and help you connect and integrate your cabling systems.
For a bid, estimate or just a discussion regarding your cable plant,  please contact us via our web form.
Asap Computer Services also provides Cable Trays, Racks, Rack Shelves, Ladder Racks and other network infrastructure.
We have moved clients network equipment and provide network cable plant design, network moves, adds and changes.
We look forward to helping you with your premise wiring project.
In addition to San Antonio Network Cabling we also provide Managed IT Services in San Antonio