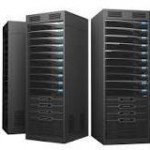 Servers are dedicated high performance computers that run applications and store data on redundant hard-drive storage systems. Typically end-users access those programs, applications and data using a shared network connection.  Your servers should have at the very least a redundant array of inexpensive disks also known as a raid hard drive array.  If you need a server or would like to learn more anout what a server could do for your business Contact us, about server sales or call us at 210-497-1424 or via email.
Benefits of a Server in a Nutshell
Consistency – All users working on the same data connecting the same way
Security – Control who can get to what and what they can do with it.
Fail-safes – RAID hard drive arrays protect your company from loss of data due to a hard drive failure.
Scalability – Servers can support anywhere from 5 to 1000 users and can perform virtually any application
Availability – Physical, virtual, local and remote access are built-in to Microsoft Windows Server 2021 Standard Edition.
Servers come in several different shapes and sizes.  The most common being a rack-mounted chassis, a blade chassis or a pedestal chassis which looks very similar to a normal computer.  Server applications for E-mail such as Microsoft Exchange, SQL Database servers, File servers, Remote Access servers , Remote Application servers, Virtualization Host servers, Failover Server Clusters, Web Servers, DNS, Active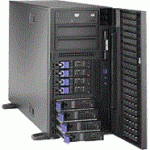 Directory, DHCP, VOIP and countless other server applications can all run on server operating systems.
It is best practice for separate applications to run on separate servers.  Specifically Active Directory servers should not perform any other roles.
Microsoft Windows Server 2021 is the most current stable release of a server operating system from Microsoft. You most likely have a server in your business which runs a Microsoft Windows server operating system. ASAP Computer Services has experience spanning from Microsoft NT Server, 2000, 2003, Small Business Server 2011, Server 2008 R2 and Microsoft Server 2012 R2.  There are also standard editions, enterprise editions, and dater center editions of all the various Microsoft server operating systems.
Microsoft server standard is generally the best choice for a business class server for the small to medium sized business.  It is versatile and capable without limits on CPU cores and as of the release of 2021 it includes 2 Virtual Machine licenses as well.
In a data center environment with 20 or so physical or virtual servers will likely be to your benefit to run the data center edition of Microsoft's Server operating system.
Most small businesses however benefit from Microsoft standard server licensing as its relatively low cost and its capability to run every type of server application.  It's hardware support and versatility is ideal for meeting the needs of small to medium sized businesses.
San Antonio's Server Hardware Gurus.
When ASAP Computer Services designs a server, the hardware is spec'd out with the task the server is going to perform in mind. All applications have recommended CPU, RAM, Disk storage and other prerequisites that they may require. So in other words server hardware is built around the task the server will perform.
Windows Server Case Studies
A small business with five employees needs to share access to both documents and a Quick-books application. Local access only with hosted exchange email.  This is a plain Jane file-server scenario.  And This is undoubtedly the most commonly encountered type of client-server environment we see at our clients offices.
In this situation we would recommend a multiple core server with anywhere from 8 to 16 GB of RAM a 1 TB RAID-1 array and Microsoft Windows Standard Server 2021 R2.  With an external USB drive for automatic server backups.  Lets not forget the server backup system. That's it nothing more nothing less it's the right amount of hardware for the and the users and the applications.  Under powering a server is like not brushing your teeth, is just not smart and you know better.
You need to buy enough power to run your programs so that your company will be more efficient, not more frustrated.
Another Example
A business has 4 locations in San Antonio and needs to secure remote access to an application through a VPN for all of the locations mentioned.  Hosted exchange e-mail is used by this customer, however they do use SQL on site for mission-critical applications and need a failover server system where if one server were to fail their data and applications would remain available. In this situation we would recommend virtualization using 2 VMWare Host Servers running  Microsoft Server Standard 2021 R2 guests and to and to servers with identical hardware in a Failover cluster.
The server hardware would be approximately 12 cores 64 GB of RAM in both a raid 1 and raid 10 hard drive array.  Dedicated switching for replication traffic would also be important to use.
If the customer preferred not to use virtualization this same application would require more physical servers with less resources each all partition out to exceed the specifications of the applications.