Need Microsoft® Exchange Server Support?

Exchange Server Support and Disaster Recovery Assistance is just a click away.  Microsoft® Exchange Server is the industry standard for Calendaring, E-mail and Contact Management.  If you've ever used Outlook in a business environment you most likely were connecting to an exchange e-mail server.
ASAP Computer Services provides expert nationwide remote support & disaster recovery for Microsoft® exchange server.
Including Exchange Server versions 2003, 2007 and 2010.  A Free consultation is available & project or remediation timelines will be provided. Call us now at +1 (210) 497-1424 or…

ASAP computer services can also help you implement an exchange server into your businesses network. We also provide the server hardware and software licensing that you will need to take advantage of exchange servers dynamic capabilities.  We do more than provide exchange server support.  ASAP provides exchange server colocation and exchange server management.  We also offer hosted exchange services providing you the benefits of using exchange without the up-front costs of owning, patching and administering an Exchange e-mail server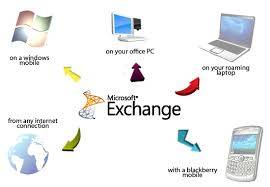 Exchange email servers offer high-availability access to exchange e-mail databases with or without expensive SAN shared storage.  Database Availability Groups or DAGs became available with Exchange e-mail server 2010.
The enterprise license for Microsoft® exchange server allows for live archives, legal holds and many other enterprise class features.
The standard version of Microsoft® exchange email server does more than enough for most small to medium-size businesses, without regulatory concerns.
Features such as Auto-configuration of email clients, Outlook anywhere, Outlook Webmail Access or OWA, Exchange over RPC/HTTP allow any device access to an exchange mailbox using an Outlook e-mail client.
Asap Computer Services exchange server support engineers are MS exchange focused experts and will provide you with enterprise class support.