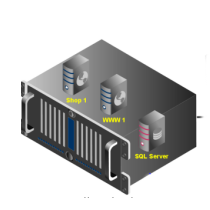 Server virtualization is the pooling of a single servers CPUs, RAM, storage and network interfaces in a centrally managed host server (Hypervisor). Which divides the host server into multiple guest virtual machines.  The picture to the right explains this better than words ever will.
Essentially virtual servers run inside of a single host server.  The number of VM (Virtual Machines) that run in a single host is only limited by hardware capacity and licensing.  Hundreds of Guests can operate in one Host.
The Benefits of Server Virtualization
Cost savings.  Both electricity, cooling and hardware costs are decreased,
Redundancy, ease of backups, replication and migration.  You can create a replica of a virtual machine that exists on another physical host.
Did I mention cost savings?  Two servers instead of twelve.  The math is obvious
High availability of local resources on multiple machines or locations.
Asap Computer Services can deploy server virtualization on either VMWare or Hyper-V based Hypervisors.  VMWare provides Esxi and Esx Virtual host platforms that can run Microsoft, Linux, Apple and BSD Guest operating systems within the Hypervisor.  VMWare's vCloud server is a management tool that we can deploy for monitoring and administering a VMWare hypervisor cluster.
If you are business runs more than two servers then server virtualization should be something you consider. To learn more about virtualization and how it can help your business give us a call at 210-497-1424, contact us or e-mail us. We'll be happy to help you determine where virtualization fits into your organizations computer network.  Call Asap Computer Services, the San Antonio Server Virtualization experts today.