Asap Computer Services provides managed IT services, business IT support, networking, VOIP phone systems, personal computer repair and laptop repair.  ASAP Computer Services was established in 1999 in San Antonio Texas.
We can be reached at 210-497-1424. Or you may contact us via the web.
Some of the business to business IT services ASAP computer services provides include:
Fast Carry In or Onsite Service
Managed IT Services
Business VOIP phone systems and service
Server and network sales
IT support
Network cabling and infrastructure
Integration troubleshooting and break-fix service
Network and server design and architecture
Server repair
Virtualization via VMWare or Hyper-V
Network repair, administration and support
Network design
VPN and Cloud Computing solutions
Desktop and Laptop repair and support
For our residential clients ASAP computer services provides:
Fast Carry In or Onsite services
Wireless network support
iPad and other tablet device integration,
Computer repair
Laptop repair
Internet connection troubleshooting
Virus removal
General technical support
Contact Us for more information.
We can repair or install anything related to computer hardware, networks, servers and network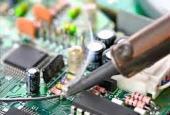 communications.  Whether you need a new motherboard, new server, network integration or virus removal, we are up to the task and appreciate the opportunity to demonstrate our work ethic to you.